E-Safety
St John's has recently received an award for providing a high level of protection for users of digital technologies. For more information please see this page. (link to assessor report)
E-Safety is keeping safe online. With internet being such a big part of life in these times, it is vital that parents and children know how to stay safe online.
The safety of our children is of paramount importance to us. At the beginning of each academic year, everyone in our school is asked to sign an Acceptable Use Policy, which parents also sign. The children are supervised when they access the Internet, which is heavily filtered, through the Education Authority. The school network is also monitored and the children are always encouraged to tell an adult if they have any concerns.
e Safety in the school curriculum:
e-safety is taught within the computing curriculum throughout the year and we also have an e-safety focus day each half term where the children focus on age appropriate aspects of e-safety that are relevant at the time of teaching.
The children also learn about the SMART rules and these are displayed around school.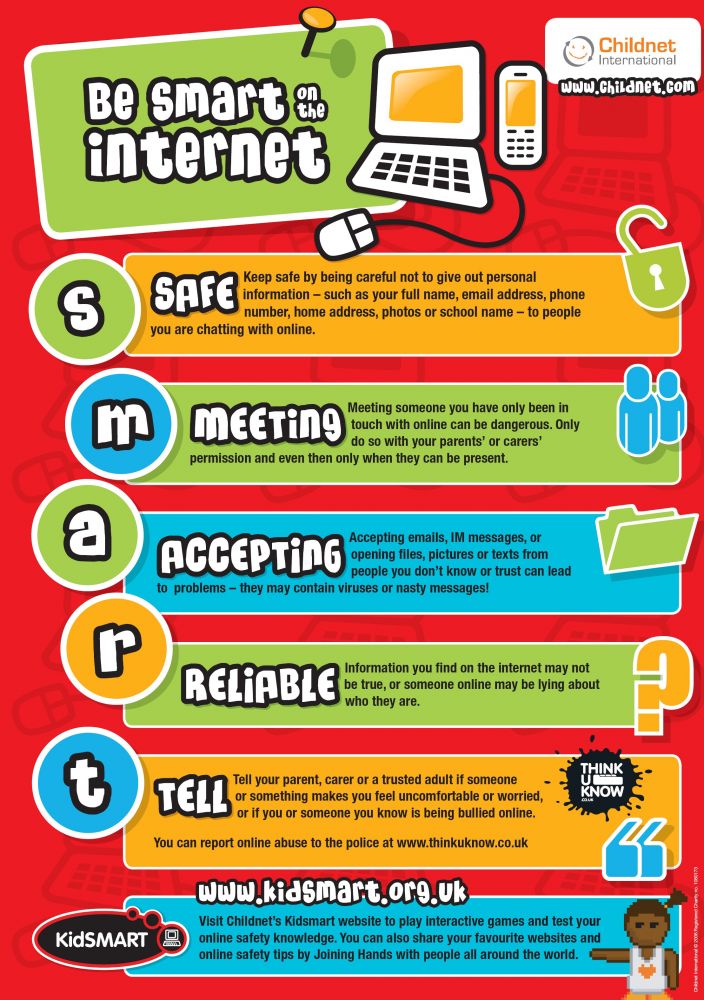 Supporting e safety at home:
At home, you can support our work in keeping the children safe by:
– Exploring the web links
http://www.childnet.com/parents-and-carers
https://www.internetmatters.org/
https://www.thinkuknow.co.uk/parents/
– Ask your child about the SMART rules;
– Keeping your computer in a shared area – Talk to your child about what they are doing online and, if possible ask them to show you which sites and which apps they are using
– Discuss the dangers of social networking applications such as Instagram, Snapchat, Facebook, Whatsapp, Vine, Tumblr, Google+, Wanelo, Kik Messenger, Ooovoo, Ask.fm, Yik Yak, Omegle and Yo and discuss with your child why these sites have a user age of 13
Additional information about e-Safety can also be found in the school's e-Safety policy, which is reviewed, updated and approved by Governors each year. A copy of this policy, as well as other useful policies, is available in the policies section of our website.
– Report any concerns by using the CEOP button on the home page of our website. This information goes directly to the police. For less urgent issues please speak to your child's class teacher.