Dear Year 3/4 Parents/Carers,
We had the pleasure of having the 'Animal Man' into school where we looked at different animals and learnt about their habitats. We thoroughly enjoyed this session and all the children completed a write-up about each animal to include the information they had learnt.
Last term, we enjoyed learning about where we would choose to build a city. We looked at different settlements, European cities and the advantages and disadvantages of areas to live.
We really enjoyed this topic, especially completing the settlement project during February half term. We looked at the different heights of skyscrapers around the world and managed to link these lessons to Maths. We also had to build skyscrapers to be a height of 2m in groups using art straws.
Our new topic for this term is 'Who was Reginald Mitchell and why was he important to the people of Stoke?' We will be looking at his life and he invention of the Spitfire. We will be linking our topic lessons through Maths and using our skills to investigate the distances, speeds and lengths of the different spitfires invented.
In Maths, we will be completing work on time and building our knowledge of converting between 24hour and 12hour time. We will be solving word problems using different calculations to find the important information to answer the question.
We will focus, in English, on Autobiographies and Biographies and looking at Poetic devices to write our own poems. We will be writing our own autobiographies and also we will write biographies of each other and about Reginald Mitchell to link in with our topic work.
We have moved on in our Science lessons to focus on 'Electricity'. We will learn all about how circuits are made up, about hazards and how to be safe when learning about electricity. We will complete practical investigations to learn more about circuits and how to spot if a circuit will work.
As we are moving into the summer term, we have an upcoming visit to Stanley Head, the summer concert and sports day planned, so we have a busy term ahead. I'm sure all the children will be looking forward to this term with all the exciting activities planned to enhance their learning.
Miss Edwards
---
Our Class Information Book for Parents/Carers
Class: Y3/4
Staff: Miss Edwards and Mrs Beech-Daly
SummerTerm 2017
Our Topics
Subject
Topic
Key Words
Home Activities
English
Authors

Information Texts

Poetry

Dick King-Smith

Fiction/Non Fiction

Title, Sub-headings

Read stories by the same authors and compare how they are written.
Maths
Place Value

Shape and Space

Time

Thousands

Decimal point

Perimeter

24-hour clock

12 hour clock

Identify 2D and 3D shapes that find around the home.
Science
Sound

Electricity

Decibel,

Pitch, vibrations

Circuit, switch insulators, motor

Find as many electrical objects around the home
RE
What does it mean to be a Christian in Britain today?
Christian Beliefs

Faith

Worship

Think about how Christians show their faith at home or at church
Learning Challenge Curriculum
Who was Reginald Mitchell and why was he important?
Spitfire

Battle of Britain

PSHCE
Animals and us

Growing Up

Human and animal needs

Changes

Responsibilities

Children to reflect on how they can look after animals and take care of their pets.
PE
Athletics

Swimming

Run

Jump

Throw

Front crawl

Back crawl

Practice running and jumping techniques

Computing
We are co-authors

We are meteorologists

Wiki pages

Editing

Weather

Forecast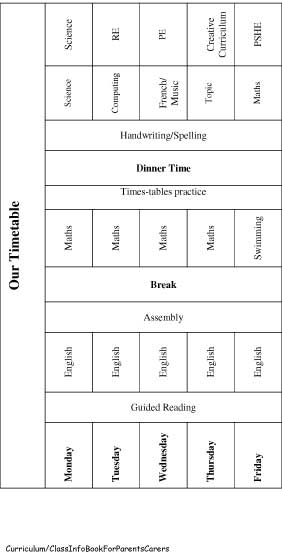 Our Homework
English – Wednesday to be  back on Monday
Maths – Wednesday to be  back on Monday
Special things to remember
PE is on Wednesdays and Swimming is on Fridays
Our class rules
Always try your best
Be nice and polite to each other
Always listen carefully and respect the teachers and other children
Always help others and your friends
Keep your hand and your feet to yourself
Tuck your chairs under the table