Welcome back to class 5/6M
We have had a very busy first term, with highlights such as: the class visit to Stanley Head (our Golden arrows were Erin H, Ella C, Chloe B and Alexander), our termly Communion service in the Hall, a KS2 Christingle Service at school, our Christmas Concert at St John's Church and our Christmas Fair (where we designed and made stocking decorations – some of us were sewing with a needle and thread for the first time!) So, let us know if you need a button sewing on!
Our topics? This term we are looking at the Mayans and we are trying to answer the question: Who are the Mayans and what have we learned from them? This topic will help to develop our Geography, History and Maths skills. We will be finding out where the Mayans lived, placing them in History on a timeline with Historical events that we already know about, how they counted, their calendar, our Birthday glyph and much more. See our 3D map.
Everyone in our class helped to make it using papier mache and paint. We also made: trees, huts and animals using our measuring skills and following instructions. Can you see what natural materials we used?
Educational Visits? Later in the term Upper KS2 will be enjoying a WOW day, which will involve preparing and eating some foods from the Mayan area. Miss Mazzei is hoping to make her favourite dip 'guacamole salsa' – delicious.
Homework? Well done to all those children that are completing their daily Spelling homework and our weekly homework. You never know when the next Homework disco or treat will be so remember to bring in on time: Spelling due in on a Friday and English/Maths due in on Monday. Don't forget that we are also expected to read four times a week; either your home reader or Bug Club (on line reading). Children are expected to organised their time themselves in readiness for High School.
---
Our Class Information Book for Parents/Carers
Class: 5/6
Staff: Miss Mazzei
& Mrs Bailey

Summer Term 2017
Our Topics
Subject
Topic
Key Words
Home Activities
English
Persuasion, Poetry, Newspaper reports, Fables
Subordinate conjunctions, fronted adverbials, prepositions
Use different sentence types in spelling sentences.
Maths
Negative numbers, Addition, Subtraction, Multiplication, Division, Decimals, Fractions, Percentages, Angles, Perimeter, Volume, Time, Money, Line graphs
<smaller than, >greater than, acute, obtuse, reflex angles, square numbers, prime numbers, coordinates,
Practise times tables at home, up to 12 x 12, including decimals.

Use mymaths to revise topics

Science
Famous Scientists,
Animals including humans
Mammal, amphibian, David Attenborough
Watch wildlife programmes.
RE
What does it mean to be a Muslim in Britain today?
Five pillars of Islam and our own faith, Prophet
Discussing beliefs.
Learning Challenge Curriculum
Why is the Trent and Mersey Canal important to Stoke?
Canal, narrow boat, anchor, aqueduct, lock, bridge
Research bridges.
PSHCE
Say no to bullying

Democracy

Rules and Laws

Opinions, debate, elections, democracy and dictatorship
Following rules and taking on own responsibilities at home (chores).
PE
Games and Athletics
Exercise at home
Computing
We are cryptographers.

Semaphore, Morse code, encrypt and decrypt
Practise our SMART rules – Safe, Meeting, Accepting, Reliable, Tell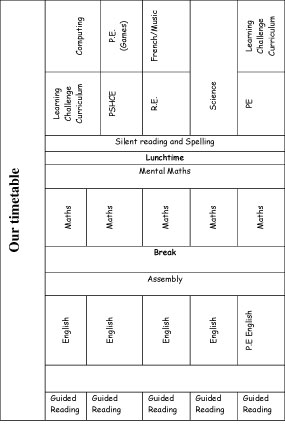 Our Homework
Spelling – Monday to be back on Friday
Mathematics – Wednesday to be back in on Monday
English – Wednesday to be back in on Monday
Special things to remember
Games is on Tuesday.
PE is on Friday.
Our class rules
These class rules were decided and agreed upon by all the children in the class.
Always remember to put your finger on your nose and think before you speak.
Be kind and polite. (Manners cost nothing and are a pleasure to give and even better to receive.)
Listen when the teacher or fellow student is talking.
Respect everything and everyone in the classroom, so that we are safe.
Always try your best.