Dear parents/ carers,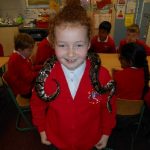 Welcome to Year 5/6. Last term we had lots of exciting learning opportunities such as the visit from the animal lady (as can be seen in the pictures) and our visit to Stanley Head Outdoor Education centre, where we developed our teamwork through exciting outdoor activities.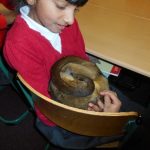 We are looking forward to starting a new term and we are ready for lots of new learning. Within Literacy we are focussing on play scripts which links to our trip to the New Vic theatre, where we are watching the amazing performance of Treasure Island. We will also be looking at poetry and myths and legends, which will link into our topic work. We are looking forward to a trip to a museum to further our knowledge of our new learning challenge curriculum topic: 'Were the Anglo Saxons really smashing?' Following on from this, we will be having a go at writing our own myths and legends based around what we have learnt.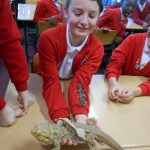 Within Mathematics we will be learning about fractions, decimals and percentages and will be continuing to deepen our knowledge of the four operations. In Science we are studying the Earth and Space and developing our knowledge of why we have day and night, seasons and eclipses which we will then apply to our Literacy work in order to write a non- chronological report.
We are looking forward to another term of hard work!
From Miss Whalley, Miss Welch and Year 5/6.