Hello from year 6!
We have had an incredibly busy start to the new term as we prepare for our SATs tests – we have all worked incredibly hard and we are sure that we will reap the rewards. This term we will be covering a range of topics in English and Maths, although this term we are focusing mainly upon using and applying our maths skills and extended writing. In addition to this we will also be writing a range of genres in our topic, science and English lessons – this term we are going to have a particular focus upon editing and improving our written work.
Our topic this term is 'Why is the Trent and Mersey canal so important to Stoke-on- Trent? ' we will be looking at different bridge structures, the reasons for canals and how our city has benefited from the canal system for decades. We will be using the information that we learn from this topic produce some extended writing. We will also be linking this topic to maths in as many ways as possible.
We are also looking forward to our trips in the summer term, we currently have two days out in May: one to the Manchester Museum and one to the Liverpool museum. During our visit to the Liverpool museum we will be looking at the history surrounding the Titanic and the trans – Atlantic slave trade.
During the summer term we taking part in a business enterprise project – we will be working in teams to create a product that we believe can be cheaply made and sold for a profit. As a team we will be responsible for marketing and making a product as well as ensuring that we source the cheapest (but best quality resources) and calculate the profit margins etc. This project will culminate in us having the opportunity to use a lot of the skills that we have learned during our primary school education to showcase key elements of the project to our friends and families at our leaving evening.
We hope to have some photographs to show soon.
Best Wishes,
From Year 6 and Mrs Peake.
These pictures are from Liverpool museum and from when the animal man came in.
---
Our Class Information Book for Parents/Carers
Class: Year 6
Staff: Mrs Peake
Summer Term 2017
Our Topics

 
 
Content
Literacy

Topic based literacy

–         Grammar lessons.

–         Writing in a range of genres

Numeracy

–         Problem solving,

–         Revision of a range of topics

–         Application of knowledge to real-life situations.

–         Application of maths to puzzles and problems.

R.E.

–         Is it better to express your beliefs in arts and architecture or in charity and generosity?

–         What difference does it make to believe in ahisma (harmlessness, grace and Ummah (community)?

Science

–         Electricity

–         Classification

–         Circulatory systems

–         Asking questions and practical work.

–         Health and wellbeing (linked to PHSE)

Creative Curriculum

–         Why is the canal system important to Stoke on Trent?

–         Project work

ICT

–         Web design

–         Internet Safety

–         Internet Research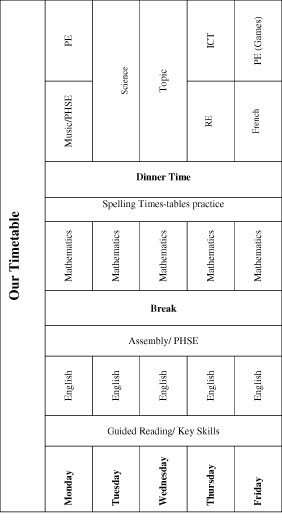 Our Homework
Homework this term will be more topic based and set over a longer period, this is good preparation for high school. More information to follow.
Reading a range of texts each night at home.
Special things to remember
Monday and Friday children will need a PE kit, although it must be in school every day for athletics practise as needed.
Our class rules
We will:
Always stay in our seats
Always do our best
Always be honest
Not talk when others are talking
Always respect property and each other