Our pupils are expected to look smart at all times and appropriately dressed. Our uniform is very practical and we strongly believe that wearing the correct school uniform is part of being ready to learn and promotes the belonging to our 'family' community. It also promotes a positive team identity and helps to prepare children for secondary school and the world of work.
Uniform Guidance
Girls Uniform
White Polo/Shirt with Collar
School Sweatshirt/Cardigan
Dark Grey Skirt/Pinafore/Trousers
Red Check Summer Dress (Summer Term only)
Sensible Flat Black Shoes (No Trainers)
Plain Black, Grey or Red Tights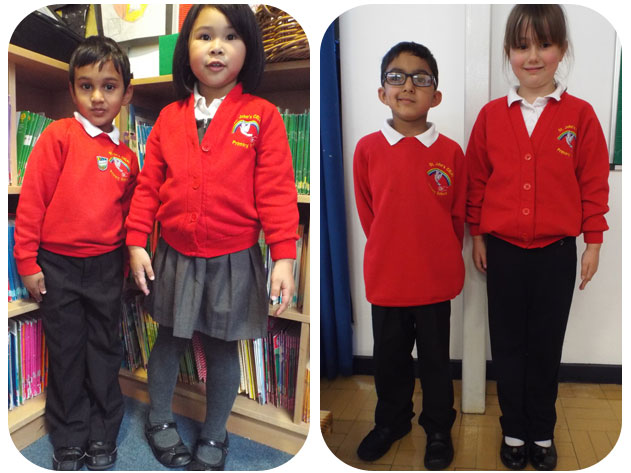 Boys Uniform
White Polo/Shirt with Collar
School Sweatshirt/Cardigan
Dark Grey/Black Trousers
Grey Shorts (Summer Term only)
Sensible Black Shoes (No Trainers)
PE Kit
Black Shorts
White Round Neck T-Shirt
PE Bag (year colour provided by school)*
Black Pumps
Y3 to Y6 trainers in addition to pumps for outdoor lessons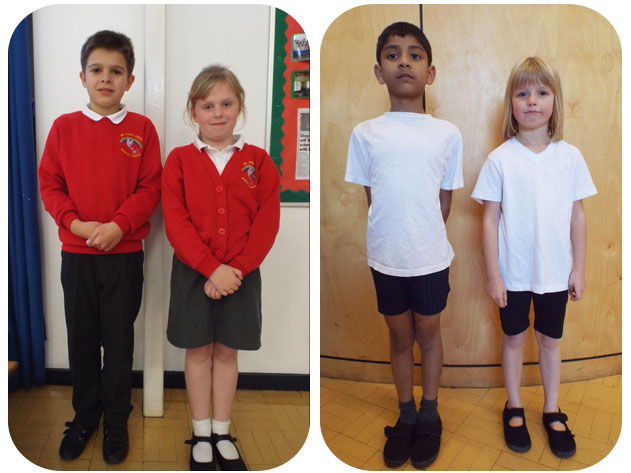 'Please make sure that all uniform is named'
Jewellery
The wearing of jewellery is not allowed for safety reasons, however children may wear watches. If your child wears earrings they must be able to remove their earrings themselves in order to take part in the PE, swimming and games lessons. All children legally have to take part in PE lessons. We encourage children to leave all jewellery including watches at home on PE day. If your child is unable to remove their earrings, you will be expected to come into school and remove them in time for the PE lesson.
The school does not accept responsibility for any watches etc. brought to school and advises pupils to leave all precious possessions at home.
Makeup/Nails
Children must not wear up or have nails painted.
Hair Colour/Styles
Natural hair only! Whilst hair styles are a matter for personal taste, certain styles of a more extreme nature can become a distraction to the pupil involved and other children in the school. For pupils and parental guidance the following are not acceptable; closely cropped hair, dyed hair, gelled hair which is spiked, where words or logos are shaved in. Long hair must be tied back for health & safety reasons. We want children to stand out for learning reasons only!
(The Headteacher and Governing Board reserve the right to make a final decision if necessary). If you are unsure about whether or not a hair style is appropriate for school, please ask the Headteacher or Deputy Headteacher before having it done.
Additional Information
• Children will be provided with a PE bag * (not rucksack), which is suitable to hold their PE kit. This will be kept on the children's pegs during term times. Please do not send children to school with large bags or rucksacks as the cloakrooms will not accommodate them.
• For health and safety reasons it is important that sensible footwear is worn by all pupils. We require children to wear black shoes and NOT trainers, as they are not suitable to wear for long periods of time. It is not acceptable for children to wear boots inside the building all day as the school is very warm during the colder months.
• We ask that all uniform is clearly labelled (sew in labels or permanent marker pens are ideal for this).
• Our school uniform can be purchased from Smart School Uniform
Smart School Uniform
Hassel Street
Newcastle under Lyme
Staffordshire
ST5 1AR
telephone number: 07598 838 528
email: shop@smartuniform.co.uk
website: www.smartuniform.co.uk