Our Class Information Book for Parents/Carers
Class: Y1/2
Staff: Mrs Brown and Miss Chapman
Autumn Term 2018
Our Topics 
Subject
Topic
Key Words
Home Activities
English
Stories with familiar settings

Poetry, pattern and rhyme

Traditional and fairy tales

Story, prediction, sentence, finger space, capital letter, full stop.
Homework tasks set on Wednesday.
Maths
Counting on and back in 1s, 2s, 5s and 10s

Addition and Subtraction

Ordering numbers

Continuing shape patterns

One more, one less.

Add, plus, take-away, subtract.

Numbers 1-30

Homework tasks set on Wednesday.
Science
Materials

Seasons

Trees

Clay, fabric, wood.

Breakable, transparent, soft.

Talk about different materials that you find around the home.
RE
Who is a Christian

and what do they believe?

God, parable, miracle
Talk about beliefs.
Learning Challenge Curriculum
PSHCE
New beginnings

Right and wrong

Rules, routines
Talk to your child about how they are feeling.
PE
Games and Gymnastics
Control, looking skills, fitness, improvement
Encourage your child to be active.
Computing
We are Treasure Hunters

We are TV chefs

Username, password, program, direction, instructions
www.phonicsplay.co.uk

to practise phonics through games on your home computer.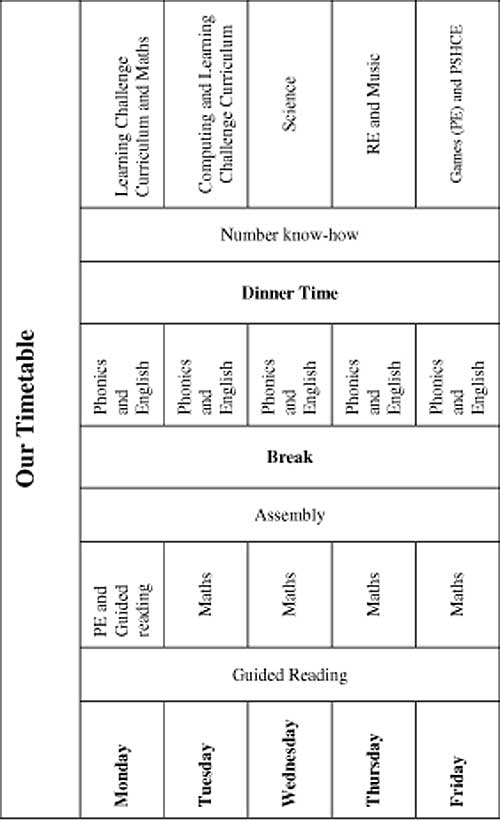 Our Homework
Writing and Maths – Thursday to be back on Tuesday
Special things to remember
PE is on Monday and Thursday
Our class rules
Listen when others are talking. (Dedication)
Always put our hand up.
Sit nicely.
Look after each other and each other's feelings. (Joy)
Share and look after our equipment.
Keep hands and feet to ourselves.
---

We have been on an Autumn walk where we have reflected on God's creation. We have looked at physical and human features in our school grounds and enjoyed exploring the grounds at this particular time of year. We will go for further walks in the winter, spring and summer and compare what we can see and what the temperature is like.
Throughout this topic we have made lots of links with Maths and Science. We have looked at the weather and how we can measure it; learning to use a thermometer, make a wind sock and measure rainfall. We have observed and recorded changes that we see from Summer to Autumn and will continue this into Winter.
In the second half of the Autumn term our topic question is:
Why can't a meerkat live in the North Pole?
This is a Geography and Science based topic which will also link to Science work on materials and habitats.
How can you help at home?


• Learning the days, months and seasons,
• Encouraging your child to complete their daily phonics homework, to read regularly and to sign their diaries,
• Talking to the pupils about their learning,
• Trips to the library can also be a great help and we always welcome information brought in from home to aid our learning.