Welcome to Y1/2,
Y/2 ended the Spring Term with an exciting visit to the Potteries Museum improving their art skills. They made clay portraits and sketched a partner. It linked to the art topic studying the works of the artists Piet Mondrian and Mackenzie Thorpe. The class were praised for their behaviour and concentration.
The children showed some brilliant skills her and took home their 3D portrait.
This term's English will focus on writing character descriptions and reports. There will also be opportunities to hear and write poetry.
In maths the class will be learning more addition, subtraction and place value. This is additional to work on measurement, fractions and reasoning. The children do 'number know how' every day to work on their tables.
The children will be learning about living things and habitats in science and will be experimenting with plants as well. There are some great budding scientists in Y1/2!
For the summer term the Learning Challenge Curriculum topics will be 'How has Saturday night entertainment changed? And 'Where will our feet take us?'
We will be making maths links by recording out favourite television programmes in a bar graph and a pictogram. And working out how long programmes last.
We will be asking parent/carers for their favourite programmes as well and what they watched when younger. Also we will be working out how long we watch television for and thinking about what is good for us.
Later on in the term we will be taking part in sports 'day utilising our PE and games lessons. Then we have a wonderful end of year concert to cascade all the talents of this excellent class.
Watch this space for more photographs!
---
Our Class Information Book for Parents/Carers
Class: 1-2H
Staff:  Mr Meir
& Mrs Halfpenny

Summer Term 2017
Our Topics
Subject
Topic
English
Non-chronological report

Character descriptions

Persuasion poster

Pattern poetry

Recount

Maths
Counting, place value, addition and subtraction to 20, shapes, multiplication, measures, fractions, reasoning, 3D shape, measurement.
Science
Living things and their habitats, plants

Seasons walk

RE
Sacred books
Learning Challenge Curriculum
How should we care for others and the world?

How has Saturday night entertainment changed?

Where will our feet take is?

PSHCE
Feelings keeping safe
PE
Athletics/games
Computing
E Safety research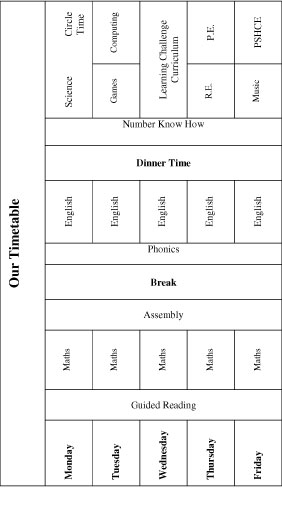 Our Homework
Reading – 10 to 15 minutes every day. (At least 4 times a week)
Writing and Maths tasks, set on Wednesday and to be returned by Monday. (In homework books or on sheets provided please)
Special things to remember
P.E is on Tuesday and Thursday.
Reading books should be in school every day and will be changed Monday, Wednesday and Friday.
Our class rules
We have kind hands and feet.
We share nicely with each other.
We are friends with everyone.
We listen carefully.