Early Years – Spread the Happiness Award!
Happy Literacy
The purple people eater came into our classroom!! But he was very kind and left us some treats!
We put out a big roll of paper to create on!
Teaching another group dough disco!
Squiggle while you giggle all over!
Outdoor Happiness
Our fairy tale of the week that we created outdoors and role playing our fairy tale – Cinderella!
Making marvellous mud!
Springtime nature walk!
Kindness and Community
We collected food for our local food bank.
We baked a big cake and shared it!
We wrote thank you letters for our dinner ladies!
Happy Maths
We looked at how big 1,000,000 is!
100 things to do before you are 6
We smashed ice with sticks in the snowy weather!
Eating a cake with a gigantic spoon!
We put on big capes and pretended we were superheroes!
Our Princess and Pirate Celebration Party!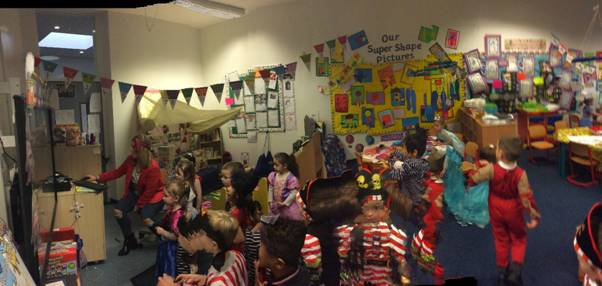 Videos
Big fish little fish
---
Dance alarm
---
Digit dance
---
Dancing in the rain
---
Forwards number song
---
Pirate Pete number song
---
Purple eater song
---
Run so fast you think you can fly
---
Singing to the office staff
---
Singing to parents
---
Teaching dough disco